While in Pensacola, the kids and I went to lunch at a local Mexican restaurant. The hostess seated us right next to the fountain in the middle of the restaurant, which the kids appreciated. When we finished our meal R3 wanted a penny to throw in so I gave them each one. As we got back into the van I asked them what they wished for and R1 answered:
R3 wished for a pet unicorn and R2 just threw hers in with no wish, I wished for (I can't remember what he said, but it's the next part that's awesome) _____ but now I wish I had wished that the girls would be my mindless slaves. To which R2 replies, "that's not gonna happen."
After lunch we went to the Children's Museum, a cute little place where we got to play and learn about Pensacola History.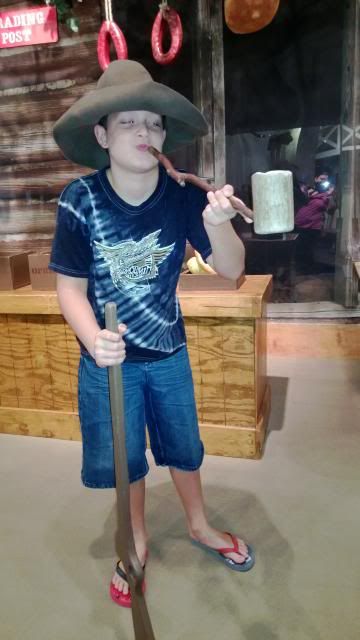 Here the girls are trying to figure out how to fit all of the cargo into the ship: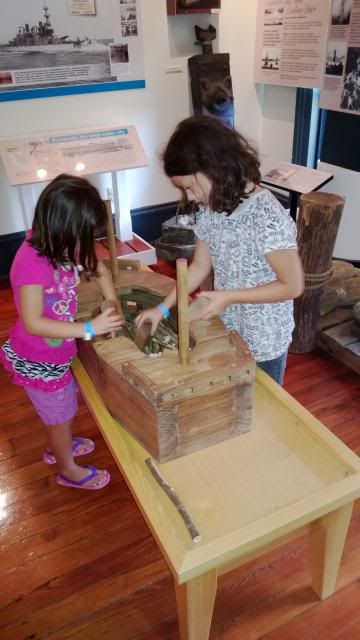 We had a lot of fun reading books, making quilts out of patterned blocks and reading about the Native Americans and local forts during the war.
The next day, before we left for home, we went with Mema to the retirement home where she works because it happened to be music day. There's a musician who comes once a month to entertain the residents.
It took some prodding but finally R3 danced with Mema:
One of the ladies who got up to dance to Old Time Rock'n'Roll has CHF and ended up almost passing out. The paramedics came and it turns out she's fine (and actually God partially healed her!!! She used to have 35% something to do with her heart – I know, I'm so specific – and now it's 65%!) R1 said to me, quietly, "I feel bad that that lady got sick but it was really cool to get to see the paramedics." <3